Have you ever wondered how rhinoplasty before and after pictures look like? Most people who are about to have this type of surgery think about how the surgery is going to turn out before they have the procedure done. This article will talk about what a person can expect from this type of cosmetic procedure, and how before and after a rhinoplasty surgery will look like.
Rhinoplasty surgery
People often have this type of surgery to correct or improve the overall look of the nose. There are instances where people may be self-conscious about the way their nose looks, or they may have a birth defect that affects how the nose functions. These are the most common reasons why people choose to have rhinoplasty surgery done.
Rhinoplasty before and after
Before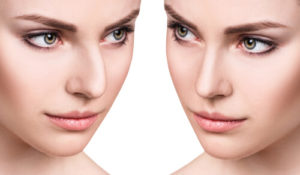 Before the surgery, the person is usually dissatisfied with the way their nose looks. At this point, the person may want to change the shape, size and other aspects of their nose. Also, if a birth defect exists that interferes with breathing or other functions of the nose (these may not always be physically visible).
At this stage, the person should be talking to their surgeon about their desired results after the surgery. Take note that the surgeon cannot make guesses as to the desired result of the patient, so when they talk to the surgeon, they have to be very specific about what kind of result they want to achieve.
After
When the surgery is finished, a person should expect to have the nose they talked about with their surgeon beforehand. Right after the surgery, patients will expect to wear a nose splint for the first few days until the doctor advises them it is safe to remove it. Then, when the splint comes off, patients will have to wait for up to six months to a year for the nose to heal and set into its final form. If they were clear with the surgeon, they should be satisfied to see that the results they wanted will be met.